Day 1: Arrival at Sankri/Kotgaon, Briefing & Acclimatisation

Day 2: Trek to Juda ka Taal
Day 3: Trek to Kedarkantha BaseCamp
Day 4: Trek to Summit Point & Night at Hargaon Camp
Day 5: Trek to Sankri/Kotgaon& Disperse
Please Note:
The dates shown are dates for reporting at Dehradun/Haridwar/Sankri(Invincible Kedarkantha BaseCamp). We will depart from Haridwar Railway Station at 05:00 AM & Dehradun at 06:30 AM, Returning would be on 5th Day approximate 10:00 PM at Haridwar/Dehradun
Participants from Ahmedabad/Baroda/Surat/Mumbai have to report Two Days before the date shown on the website at the railway station, Returning would be on 9th Day.
Internal Travelling in Delhi/Haridwar is excluded

The schedule is subject to change as per the weather conditions. Any change in schedule or cancellation of the trek can be done without giving any prior information. The final powers of changing the schedule/accommodation are reserved with the Chief Instructor.
Inclusion:

Food (Breakfast, Lunch, Snacks & Dinner) at Campsite
Accommodation in sharing Basis (Tent + Mattress + Sleeping Bag)
Travelling as per your package
Guide & Instructors
5% GST
Forest entry fees
First Aid Support

Exclusion:

Anything not listed above

Note: The travelling/accommodation offered in the packages are as per the normal situation. If the govt orders to keep the social distance during the camping months, per head cost might get a slight hike depending on COVID situation in December/January

As the aim of this camping is to provide Nature Education and train the youth for critical situations, we prefer proper adventure establishment for the adventure camps.
In this trekking expedition, the participants will stay in the portable tents in 3/4 Sharing Basis and the same accommodation will be formed during the trek.
Healthy Pure Veg food will be served during the camping. Non-vegetarian food or egg food is not allowed in the campsite area.
Jain or Swaminarayan Food is also available
Cancellation Policy
Cancellation would be granted by the Project Manager or Higher Authorities on receiving cancellation request through registered mail ID only. The cancellation Amount will be counted on total fees only.
The refund amount will be paid in 7 to 12 working days directly in the account.

Before more than 40 days of expedition, 10%
Before 21 to 40 days of expedition, 25%
Before 11 to 20 days of expedition, 40%
Before 1 to 10 days of expedition, 60%
In the last 24 hours of Departure, 90%
Discipline
✓ This is an Adventure Camp and not a leisure tour, so we expect a high level of discipline
✓ Participants will have to follow the instructions clearly given by the volunteer/guide, Misbehave/Arguing with the volunteers/guide/instructors will be considered as disciplinary issues
✓ Smoking, Alcohol, Tobacco & Abusive Language are strictly prohibited and if anyone found the suspect in such cases, the participation will be terminated and no further service/return ticket/refund will be offered then after
✓ Accommodation & Sanitary Facilities for Girls & Boys are separate
✓ Punctuality is taken as a serious matter
Change Of Schedule
✓ In case of unforeseen conditions, the schedule/itinerary can be modified/cancelled
✓ Invincible reserves all rights to cancel/shorten/modify the itinerary, and the final decision is authorized with the trustee team
Original ID Proof with 1 Xerox Copy
Screenshot of Fees Receipt
Sanitiser & Face Mask
Personal Clothing
Normal Jacket & Feather Jacket (-5 to -10 Degree)
Woollen Socks, Cap & Gloves
Waterproof Gloves & Face Mask/Buff
Thermal Inner Wear
Trekking Shoes, Slipper & Socks
Backpack with Raincover (40-60 litres)
Poncho & Plastic Bags (for wet clothes)
Personal Sanitary Items
Water Bottles & Snacks
Lunch Box, Mug & Spoon
Cap, Goggles & Sunscreen (SPF 40+)
Head Torch, Camera & Power banks
Personal Medication if any
Medical Certificate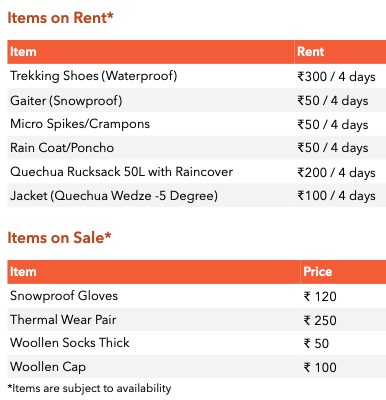 Rent a Combo
Rent all the 6 gears listed above at ₹600 / 4 days
Tentative Schedule from Ahmedabad for 2020-21
Day 1: Depart from Ahmedabad to Delhi (Time: 05:00 PM / SL/3AC)
Day 2: Arrival at Delhi, Train from Delhi to Haridwar (Second Seating), Night Stay at Haridwar
Day 3: Early Morning start journey towards Sankri/Kotgaon, Briefing & Acclimatisation
Day 4: Trek to Juda ka Taal, Night stay in Tent
Day 5: Trek to Kedarkantha BaseCamp
Day 6: Trek to Summit Point & Night at Hargaon Camp
Day 7: Trek to Sankri/Kotgaon & Return to Haridwar at Late night
Day 8: Train from Haridwar to Delhi & then Delhi to Ahmedabad
Day 9: Arrival at Ahmedabad Early Morning (Time: 06:45 AM)
Second Route From Ahmedabad
Day 1: Depart from Ahmedabad to Haridwar (Time: 10:00 AM / SL/3AC)
Day 2: Arrival at Haridwar (11:30 AM), Free time for haridwar visit, Night Stay at Haridwar
Day 3: Early Morning start journey towards Sankri/Kotgaon, Briefing & Acclimatisation
Day 4: Trek to Juda ka Taal, Night stay in Tent
Day 5: Trek to Kedarkantha BaseCamp
Day 6: Trek to Summit Point & Night at Hargaon Camp
Day 7: Trek to Sankri/Kotgaon & Return to Haridwar at Late night
Day 8: Train from Haridwar to Ahmedabad (Time: 03:30 PM)
Day 9: Arrival at Ahmedabad (Time: 03:40 PM)